Demystifying the Granting Relationship - Webinar
An Opportunity for Shared Impact
---
Details
Wednesday, February 16, 2022
11:00 AM - 12:00 PM Pacific Time
Community: National
Cost: Free!
Location
Nationwide Webinar
---
Event Information
Do you hear about other ministries getting grants and wonder how it's done? Does it feel like a mystery with unknown rules, or have you tried firing off lengthy paperwork to no avail? Does it seem like you don't have the time, the people or the specialty cause to make grant-seeking possible?
Many leaders tell us they would love to get a grant, but don't know who to ask or how to ask which leads them to doing it poorly, or not at all. Both options not only limit resources for your organization but remove the opportunity for shared impact with foundations as givers. But there is a better way!
Join host and Mission Increase VP, Tracy Nordyke, as she leads a discussion with guests from national, local and family foundations. They will consider what's needed to start, and grow, transformational relationships with grant-makers. This webinar best builds upon the content shared at the Growing Major Gift Relationships workshop, but will still be useful if you were unable to attend the workshop. Register today!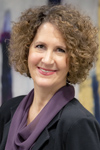 Featuring - Tracy Nordyke
VP of Program and Training, Mission Increase
Tracy Nordyke currently serves as the Vice President of Program and Training, working to develop Transformational Giving training materials and coaching the Area Director staff. Tracy has worked in fundraising for over twenty-five years including consulting in marketing, communications, and donor discipleship with ministries in virtually every sector of the Christian nonprofit world. Tracy earned a BA in History at the University of California Irvine. Tracy is passionate about sharing the message of biblical generosity and partners with Women Doing Well. She and her husband Kevin live in Portland, Oregon.

Featuring - John Franklin
Program Director, MJ Murdock Charitable Trust
John joined the MJ Murdock Charitable Trust in October 2012 as a program director. Prior, he spent 32 years on the staff of Young Life, his last four serving as the senior vice president for the western division. John has been involved with numerous nonprofits in the Northwest and is a frequent speaker and consultant with organizations around the country. He is a graduate of the University of Oregon and earned his master's degree at Fuller Theological Seminary. John and his wife Staci have three married, adult sons and five grandchildren.

Featuring - Brian Decker
Director, Madala
Brian has been involved in Christian philanthropy for more than 14 years. He is the Director of Madala, which is a grant-making organization focused on accomplishing the Great Commission and fulfilling the Great Commandment in French-speaking West Africa. He holds a Master's Degree from Denver Seminary. He is blessed to live in Colorado with his wonderful wife and three children.

Featuring - Stephanie Borges
Program Director, Serving USA
Stephanie knows first-hand the challenges of starting up and sustaining a non-profit. From creation of the 501c3 Serving California in 2013, and its expansion into Serving USA which provides hope and change to prisoners, military veterans, and women nationwide, she has assisted in all avenues of growing a successful foundation. As an empathetic and resourceful Program Director at Serving USA, she partners with organizations of all sizes and budget and unique needs, offering support to increase their capacity to accomplish their missions, visions, and goals.

Featuring - Tyler Haar
Program Officer, The Maclellan Foundation
Tyler Haar has been a Program Officer at The Maclellan Foundation since 2017. Tyler helps lead the local and domestic grant-making portfolio, where he works with many organizations advancing Christ's Kingdom. Tyler also serves as a volunteer with The Generosity Trust and Generous Giving, where he advocates with the next generation to practice a lifestyle of generosity. Tyler and his wife Maddy live in Chattanooga, and he enjoys triathlons, reading a good book, or cheering for The Minnesota Vikings.
---
}