Register For Event
Using Social Media with Purpose - Webinar
Get the attention of your champions
---
Details
Wednesday, August 17, 2022
11:00 AM - 12:00 PM Pacific Time
Community: National
Cost: Free!
Location
Nationwide Webinar
---
Event Information
Research says that people need to hear something at least seven times before they act. Social media has expanded opportunities for communicating more broadly. Yet social media can easily become noise when it's not purposefully connected to your overall communications strategy. Join us for a fun interview with returning guest, Danny Rohrdanz, the Mission Multiply Digital Program Director. Tracy Nordyke and Danny will build on the Communicate with Purpose workshop by focusing on social media.
In this webinar, you'll learn:
How social media integrates with your website and email to create a strong strategy
How to leverage repetition in your social media communication
Skills for testing and measuring social media platforms and results
To evaluate how tools can help you integrate social media into your existing communication streams
This webinar is designed for anyone who is involved with communication at your organization - regardless of if you have a communications team or if this is one of many roles you fill at your organization.
The content in this webinar will extend the conversation started in our summer Communicate with Purpose workshop.
The link to join the webinar is included in your confirmation and reminder emails once you register, and is all you need to connect on August 17th!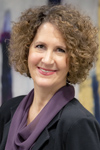 Featuring - Tracy Nordyke
VP of Program and Training, Mission Increase
Tracy Nordyke currently serves as the Vice President of Program and Training, working to develop Transformational Giving training materials and coaching the Area Director staff. Tracy has worked in fundraising for over twenty-five years including consulting in marketing, communications, and donor discipleship with ministries in virtually every sector of the Christian nonprofit world. Tracy earned a BA in History at the University of California Irvine. Tracy is passionate about sharing the message of biblical generosity and partners with Women Doing Well. She and her husband Kevin live in Portland, Oregon.
Featuring - Danny Rohrdanz
Digital Program Director, Mission Increase
Danny serves as the Digital Program Director at Mission Increase (MI), where he builds creative strategies, tools, and resources for ministries to harness the power of digital marketing and storytelling to reach, grow and mobilize their audiences. Danny is thrilled to be a part of the MI team. It allows him to continue pursuing his passion for seeing communities flourish by spreading creative and meaningful ideas through strategic marketing, cause-driven businesses, dedicated ministries, and philanthropic initiatives.
Prior to Mission Increase, Danny served as the Director of the Free Family Foundation, a private foundation, and philanthropy advisor to clients of the family office, Clearwell Group, based in Tampa, FL. In July 2011, he founded Yellow Leaf Marketing. A creative digital agency, Yellow Leaf works alongside cause-driven businesses, foundations, and ministries to help develop their identity, reach their people and mobilize their champions. Danny's current role is acting Business Advisor to Yellow Leaf Marketing's new owners.
He and his wife, Courtney, reside just outside of Orlando and find no greater joy than raising their daughters, Harvest, Storey, and Shiloh.
---
}