Communicating with Monthly Givers - Workshop
Turn Any Monthly Giving Plan into a Champion Development Strategy
---
Community: Middle Tennessee
Tuesday, August 22, 2023
9:00 AM - 11:45 AM CDT
Seats Available: 10 of 40
Event Information
Are you communicating with monthly givers in a way that develops and nurtures the relationship?
Too often, organizations create monthly giving programs but fail to consider how they will communicate with givers who have signed up. A thoughtful and intentional strategy is key to nurturing long-term relationships.
This workshop will offer you engaging discussion, practical resources, and on-the-spot practice.
You will learn:
How to on-board new givers well
How to nurture the relationship through ongoing communication
Imagine if your monthly giving program was seen as a communications effort that grew champions in a wholistic way, rather than just a fundraising opportunity.
This updated workshop will surely benefit your entire team. Be sure to invite development staff, board members, and even key volunteers to attend. Register today!
We encourage you and your team to take full advantage of our learning series by:
Attending the workshop
Watching the national webinar on August 16th – save the date
Take advantage of any group coaching or individual coaching offered by your Area Director
Join us in our regular workshop space, room 503 at New Vision. Bring your own coffee or beverage. Water and handouts are provided.
Presenters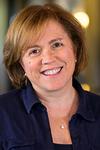 Featuring - Anne Calton
Middle Tennessee Area Director, Mission Increase
Anne Calton serves as the Area Director for Mission Increase Middle Tennessee. With more than 25 years of development, fundraising, and capital campaign experience, Anne has worked with a variety of organizations in Nashville, including: Christian Women's Job Corps of Middle Tennessee, Fannie Battle Day Home for Children, Scarritt-Bennett Center, Frist Center for the Visual Arts, Franklin Road Academy, and Vanderbilt University. Anne has also served as a consultant expert in fundraising and development for the Center for Nonprofit Management. She holds a M.Ed. in Institutional Advancement from Peabody College at Vanderbilt University. It is Anne's privilege to serve the Lord by equipping ministries with the skills to carry out their missions. Anne is also involved in the women's ministry at her church. She and her husband John have two children and live in Brentwood.