Major Gifts: Making the Invitation - Workshop
Transform the way you invite people to give
---
Community: Middle Tennessee
Tuesday, January 16, 2024
9:00 AM - 11:45 AM CST
Seats Available: 23 of 30
Event Information
Does inviting someone to give to your organization feel like an unnatural conversation? Are you timid about asking people to give financially? Does your work with major givers feel transactional? It doesn't have to be this way.
Gather with fundraising peers at this Mission Increase workshop. Together, you will learn how to transform the way you invite people to give so that there is greater ownership in your cause.
Outcomes:
Understand the biblical principles that inform how we invite people to give
Articulate your mission and vision in a compelling way
Practice inviting someone to give
If you or anyone on your team has been apprehensive about inviting financial gifts, don't miss out!
This workshop will benefit executive directors, development staff, board members – or anyone who has personal relationships with champions. Register today!
Register Now! It is encouraging to gather with other ministry leaders and learn in community. Join us in Room 2225 of the Weekly Building. Bring your own coffee or beverage. Water and handouts are provided! (if your plans change after you register, please unregister for the event.)
Location Details
The session will be in the Weekley Education Building drive to the right of the the main entrance.
Presenters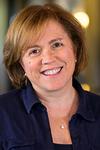 Featuring - Anne Calton
Middle Tennessee Area Director, Mission Increase
Anne Calton serves as the Area Director for Mission Increase Middle Tennessee. With more than 25 years of development, fundraising, and capital campaign experience, Anne has worked with a variety of organizations in Nashville, including: Christian Women's Job Corps of Middle Tennessee, Fannie Battle Day Home for Children, Scarritt-Bennett Center, Frist Center for the Visual Arts, Franklin Road Academy, and Vanderbilt University. Anne has also served as a consultant expert in fundraising and development for the Center for Nonprofit Management. She holds a M.Ed. in Institutional Advancement from Peabody College at Vanderbilt University. It is Anne's privilege to serve the Lord by equipping ministries with the skills to carry out their missions. Anne is also involved in the women's ministry at her church. She and her husband John have two children and live in Brentwood.