Register For Event
How to Grow Effective and Faithful Boards - Workshop
Making Board Service a Gift
---
Details
Tuesday, November 01, 2022
6:00 PM - 8:00 PM Eastern Time
Community: Northeast Ohio
Cost: Free!
Seats Available: 3 / 20
Location
Cleveland Clinic Training Center
6801 Brecksville Road
Independence
OH
---
Event Information
When you think about your board, does it feel like a blessing?
Great boards can be a gift to an organization when members understand their role and create environments dedicated to serving the kingdom. Board service can also be a tremendous gift for the person serving when members have the freedom to offer their skills and lead with courage. With role clarity, healthy board composition, and invigorating communication, board service is a blessing to leaders and organizations.
How do you foster the change needed to help your organization's board grow into the strategic leaders and protectors of the mission required to achieve your God-given vision?
Join us to:
Learn the key roles and responsibilities related to serving on a faith-based nonprofit board
Learn ways board members can create pathways for congregations and nonprofits to work together
Explore key ways to increase board engagement, including fundraising
Practice skills needed to recruit, retain, and retire board members
This workshop, along with its corresponding early learning and group coaching opportunities, is intentionally designed for ministry board members and staff to attend so that together you can carve out a path that leads to advancing the cause and creating lasting kingdom impact.
Register your board and staff today for this updated board leadership workshop.
Join us or dinner as we share together! Dinner will begin at 5.45pm. Workshop will begin at 6.00pm.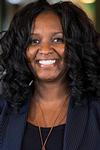 Featuring - Jimeka Holloway
Northeast Ohio Area Director, Mission Increase
Jimeka Holloway serves as the Area Director for Mission Increase Northeast Ohio. With more than 20 years of program development and fundraising experience, she has worked with a variety of organizations and has served on advisory and governance boards of numerous ministries and nonprofit organizations throughout the Northeast Ohio area. Jimeka earned a PhD in Management from Case Western Reserve University. Her doctoral work focused on the distinct tensions of social innovators, impact investors, and intermediaries who work toward sustainable impact in socio-economically distressed communities. Jimeka is also a certified urban youth minister (Fuller Theological Seminary) and diversity management professional from NTL Institute.
---
}