Communicating with Monthly Givers - Workshop
Turn Any Monthly Giving Plan into a Champion Development Strategy
---
Thursday, July 20, 2023
9:00 AM - 11:30 AM PDT
Event Information
Are you communicating with monthly givers in a way that develops and nurtures the relationship?
Too often, organizations create monthly giving programs but fail to consider how they will communicate with givers who have signed up. A thoughtful and intentional strategy is key to nurturing long-term relationships.
This workshop will offer you engaging discussion, practical resources, and on-the-spot practice.
You will learn:
How to on-board new givers well
How to nurture the relationship through ongoing communication
Imagine if your monthly giving program was seen as a communications effort that grew champions in a wholistic way, rather than just a fundraising opportunity.
This updated workshop will surely benefit your entire team. Be sure to invite development staff, board members, and even key volunteers to attend. Register today!
We encourage you and your team to take full advantage of our learning series by:
Attending the workshop
Watching the national webinar on August 16th – save the date
Take advantage of any group coaching or individual coaching offered by your Area Director
Presenters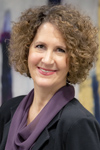 Featuring - Tracy Nordyke
Oregon Area Director, Mission Increase
Tracy Nordyke currently serves as the Oregon Area Director, helping organizations and leaders in Portland, Salem, and Southwest Washington foster growth and find momentum. After serving MI for fifteen years developing Transformational Giving training materials and coaching the Area Director staff, Tracy is humbled and excited to shift her focus to the Kingdom work happening in the region she loves. Since earning a BA in History at the University of California Irvine, Tracy has worked in fundraising for over thirty years including consulting in marketing, communications, and donor discipleship with ministries in virtually every sector of the Christian nonprofit world. Tracy is passionate about sharing the message of biblical generosity and partners with Women Doing Well and Generous Giving. She and her husband Kevin live in Portland, Oregon where he serves with the Luis Palau Association. They enjoy doing life with their adult children Garrett and Sophie.